There will be a great story on my friend, a true patriot, Stewart Rhodes, founder of Oath Keepers in a few days here. Around the Day 4 mark. Remember. He is a political prisoner being held on made up charges that in a real court would be laughed out – but a DC court? 😡😡😡
DAY 1. An opinionated opinion by Fred Brownbill. 🇺🇸🇺🇸🇺🇸
Why are the democratic leaders unable to speak English? Why are they so inherently illiterate? Is it because they know they do not have a message that Americans will believe? Is it because, as I have made the case before, that liberalism is a mental disease? Is it because they are just confused? Is it because anything past a simple yes no answer challenges them past their capabilities? Is it that they know they are lying blatantly and are just trying on the fly to make themselves sound more sincere? Is it a combination of all the above?
Very possibly.
We see daily examples like that really incredibly dumb and ignorant so called Vice President, Kamala Harris, who when not giggling like a hyena, just produces word salad which is impossible to follow. She seems unable to answer a simple question and her answers are absolutely incoherent. Her inabilities have led to her almost two year stint of ineffectiveness and zero result or credibility.
We see the usurper President, a true life Crime Boss, unable to walk properly and certainly unable to string two coherent sentences together without hours of practice and even when given cheat sheets is unable to speak properly. Notes telling him to look left or right or sit or other instructions are read as part of the speech.
Then a third example is that sheer vision of feminine beauty, ( excuse my sarcasm ) the mayor of Chicago, Lori Lightfoot. A true example of what the New Socialist Democrat Party is and has become. During a public speech the liberal scattering of the 'F' word seems acceptable to her, her followers and other libtard groups.
America. Come on. Even if you are a part of the 30 ish percentile of lunatics from the left. Are you not embarrassed by these buffoons? We as a nation have become the laughing stock of the world. Our influence has shrunk. All they want from us now is our money which Biden and company seem very willing to pass out like Halloween candy.
DAY 2:-
DEATH CLAIMS UP $6B AFTER CHINA VIRUS SHOT UNLEASHED. Read on …
Fifth Largest life insurance company paid 163% for more working-age deaths in 2021.
---
The massive media cover-up of the death toll and injuries sustained in the largest medical experiment in human history could not remain hidden for too long. The body count and the life insurance costs cannot be ignored.
The lies and deceit are monumentally criminal …… And the medical establishment has destroyed the public trust by going along with this horror.Just this week:
Two-time Olympic artistic swimmer Anita Alvarez was in danger of drowning after fainting while performing at the World Championships in Budapest, Hungary, on Wednesday and was dramatically rescued by her coach, Gateway Pundit reports.
(Natural News) Another major life insurance company in the United States is facing turmoil as death claims soar due to Wuhan coronavirus (Covid-19) "vaccines."
According to reports, Lincoln National, the country's fifth-largest life insurance carrier, reported a massive 163 percent increase in death benefits paid out under its group life insurance policies in 2021.
Annual statements filed with state insurance departments, which were provided to Crossroads Report in response to public records requests, show that Lincoln National paid out almost three times as much money in 2021 compared to yearly totals in both 2020 and 2019.
Last year, an astounding $1.45 billion left Lincoln National's coffers – this compared to $548 million in 2020 and just over $500 million in 2019. (Related: Earlier this year, OneAmerica, another major life insurance carrier, reported a 40 percent increase in death claims after covid injections were released.)
"From 2019, the last normal year before the pandemic, to 2020, the year of the Covid-19 virus, there was an increase in group death benefits paid out of only 9 percent. But group death benefits in 2021, the year the vaccine was introduced, increased almost 164 percent over 2020," Crossroads Report explains.
"Lincoln National is the fifth-largest life insurance company in the United States, according to BankRate, after New York Life, Northwestern Mutual, MetLife and Prudential."
More than 20,000 people covered by Lincoln National died in 2021 because of Fauci Flu shots
Group life insurance policies typically cover working-age adults, which range in age from 18 to 64. This should be an otherwise healthy demographic, and one that clearly did not have much of a problem with "covid" pre-vaccine.
"How many deaths are represented by the 163% increase? It is not possible to determine by the dollar figures on the statements," Crossroads Report further explains.
"But the average death benefit for employer-provided group life insurance, according to the Society for Human Resource Management, is one year's salary."
Estimating based on an average annual salary in the United States of $70,000, it is safe to assume that more than 20,000 working-age adults covered just by this one insurance company died last year because of the jabs – and keep in mind that this is just one insurance company.
While we do not yet have numbers for New York Life, Northwestern Mutual, MetLife and Prudential, these each are more than likely seeing similar figures, suggesting that hundreds of thousands of working-age adults in America are now dead as a result of becoming "fully vaccinated."
There are also ordinary death benefits, which are not paid out under group policies. In 2019 pre-plandemic, such policies paid out $3.7 billion, In 2020, that figure increased to $4 billion. In 2021, however, after almost 260 million Americans took at least one jab, the number ballooned to $5.3 billion.
"The statements show that the total amount that Lincoln National paid out for all direct claims and benefits in 2021 was more than $28 billion, $6 billion more than in 2020, when it paid out a total of $22 billion, which was less than the $23 billion it paid out in 2019, the baseline year," reports explain.
"A $6 billion increase in expenses is something few companies could absorb, but Lincoln National has been working to do just that – by increasing sales of new insurance policies."
It remains to be seen if the life insurance industry survives what has happened, is still happening, and will happen in the future once the remaining survivors of the injections develop ADE (antibody-dependent enhancement) and VAIDS (vaccine-induced AIDS).
Fauci Flu shots are a deadly affair. To keep up with the latest news about the injuries and deaths being caused by them, check out VaccineDamage.news.
AUTHOR. Pamela Geller
https://drrichswier.com/2022/07/09/death-claims-up-6-billion-fifth-largest-life-insurance-company-paid-out-for-163-more-working-age-deaths-in-2021-after-covid-vaccines-were-unleashed/
This interesting article is worth the hit! https://drrichswier.com/2022/07/09/eu-declares-fossil-fuel-to-be-green-energy-as-climate-change-narrative-self-destructs/
DAY 3:-
Watchdog has documented Canadian military personnel patrolling in uniform in Judea and Samaria. (By Aryeh Savir, TPS)
In recent weeks, a delegation of senior Canadian military personnel has been documented patrolling in uniform in Area C in Judea and Samaria, including at an illegally-built structure, the Regavim organization reported Thursday.
Area C is under full Israeli security and civilian control, as per the 1993 Oslo Accords.
Last week, a high-ranking Canadian army officer, together with a delegation of Canadian military personnel, visited an illegal structure built on state land belonging to Maon in the southern Hebron Mountains, where he met with Arabs from the area.
The delegation was also hosted by the IDF's Central Command General Yehuda Fuchs, hence their identity is known and their presence on the ground is known to IDF officials.
The illegal building that the Canadian delegation visited was erected during the night within a few hours, in Area C on land designated for agriculture and belongs to the nearby Israeli community of Maon.
The Israeli residents of the community appealed to the IDF and the Civil Administration to stop the work and demolish the building. According to them, the Civil Administration has pledged to enforce the law but so far has not done so.
Shortly after the referral to the Civil Administration, the visit of the Canadian delegation, which included two uniformed military personnel, was documented.
The delegation was also documented during a visit to the village of Zurif near the community of Carmi Tzur in Gush Etzion, and this week they were discovered again in a meeting with Arabs near the village of Kisan in eastern Gush Etzion, also in Area C.
"Imagine that Chief of Staff [Aviv] Kochavi would walk around the Canadian border wearing a uniform with ranks on his shoulder and reinforcing criminal border smugglers," said Meir Deutsch, Regavim's Director-General.
"Is Canada planning to start a war with Israel? A senior military figure from a foreign country who encourages criminals who have invaded the country's lands under the auspices of the PA is utterly insane and a blatant and rude move against the State of Israel," he stated.
Deutsch added that "as long as the State of Israel sees itself as a guest in Judea and Samaria and does not conduct itself as the landlord, the rest of the world will also see the State of Israel as a guest and not as the landlord."
Seven new illegal buildings every day
The Regavim Movement, which combats illegal takeover of state lands, recently revealed new mapping data on the frightening scope of the PA's takeover of Israeli land in Area C, including the extent of illegal Arab construction in the area.
Between the years 2019-2021, the Arabs built 5,097 new illegal structures, in areas under the full control of the State of Israel. This means that every day, about seven new illegal buildings are added to the area. The total number of illegal Arab buildings in Area C is 72,274.
At the same time, a PA-guided agricultural takeover of 7,125 dunams of land under Israeli control was recorded during this two-year period, reaching a total of 93,071 dunams, meaning that Israel is rapidly losing lands in Area C to illegal construction projects executed by the PA.
In 2009, then-prime minister of the PA Salaam Fayyad laid out the Plan for the Creation of the State of Palestine, a methodical program for seizing control of territory in Area C, under full Israeli control as prescribed by the Oslo Accords, to form a broad and viable basis for a Palestinian state, specifically in the areas under Israeli control.
Fayyad's plan essentially bypasses all negotiations or compromises with Israel and creates facts on the ground.
https://worldisraelnews.com/is-the-canadian-army-helping-the-pa-take-over-israels-area-c/?utm_source=newsletters_worldisraelnews_com&utm_medium=email&utm_content=Canadian+Army+Helping+Palestinians+Take+Over+Judea+and+Samaria%3B+Moscow's+Chief+Rabbi+Officially+Ousted%3B+Israeli+Defense+Sales+to+Arab+Countries+Grows+to+Massive+Amount&utm_campaign=20220707_m168510787_Canadian+Army+Helping+Palestinians+Take+Over+Judea+and+Samaria%3B+Moscow's+Chief+Rabbi+Officially+Ousted%3B+Israeli+Defense+Sales+to+Arab+Countries+Grows+to+Massive+Amount&utm_term=Webp_net-resizeimage-2022-07-07T161559_724-600x320_jpg
DAY 4:

"That which is not good for the bee-hive cannot be good for the bees." Marcus Aurelius
My friend and long time Save America Foundation supporter who wrote many articles for us sent the following to me. It is extremely well written and needs to be read which includes hitting all links. You can see it here or at https://mychal-massie.com/hear-o-israel-how-do-i-hate-thee-by-joan-swirsky/
The following was written by my longtime dear friend and award-winning author and journalist, Joan Swirsky. It first appeared on Sharon Rondeau's The Post and Email, June 10, 2022.
Hear O Israel––How Do I Hate Thee? by Joan Swirsky
King Solomon said, "there is nothing new under the sun" (Ecclesiastes 1:9).
The sun rises, and the sun goes down…all streams run to the sea… what has been done is what will be done, and there is nothing new under the sun.
In his prescience, King Solomon no doubt knew that one of the things that would remain the same was the obdurate persistence––over thousands of years––of maniacal Jew hatred and a fanatical loathing of Israel.
If it weren't so serious, and deadly, it would be almost comical, considering that the massive, heavily armed, immensely populated, and hugely influential empires that tried to annihilate the Jews—the Babylonians, Greeks, Romans, Byzantines, Assyrians, et al––have been extinct for centuries, while the teeny tiny world of Judaism flourishes to this day.
And that is not to omit the Crusades and Inquisition and forced conversions and the 20th century Holocaust in which Hitler's "willing executioners" ––all over Europe––succeeded in mass-murdering a full half of the world's Jewry. Here is a partial picture of Jewish history and persecution that makes the vibrancy of modern Jewish life even more amazing!
But not so amazing that today, in the putatively evolved 21st century, the historical scourge of viciously rampant Jew hatred not only gallops across the globe but also in hundreds if not thousands of colleges and universities in our own country!
According to The Center for the Study of Contemporary European Jewry, hatred of Jews is on a significant rise. Their 2021 survey reports:
In the US, which has the largest Jewish population outside ofIsrael, the number of anti-Jewish hate crimes recorded in both New York and Los Angeles was almost twice that of the previous year,
In France, the number ofrecorded anti-Semitic incidents increased by nearly 75% compared with 2020,
In Canada, a leading Jewish group reported a 40-year record in anti-Semitic physical violence in one month – August,
In the UK, the number ofrecorded physical assaults against Jews increased by 78% compared with 2020,
In Germany, anti-Semitic incidents recorded by police were up 29% compared with 2020,
In Australia, there was the sharpest rise in recorded anti-Semitic incidents, with 88 in May alone.
In Ukraine (Jewish population: 43,000), acts ofvandalism against Jews increased 162.5% from 2019.
In fact, according to the Annual Report on Hate Crimes released by the Uniform Crime Reporting Program of the Federal Bureau of Investigation (FBI), it is Jews, among the world's tiniest populations––15 million in a world of nearly eight billion––who experience the most bias, hatred, assaults, blatant racism and hate crimes.
Yet, we Jews continue to thrive not only in our ancestral home in the State of Israel but around the world, contributing disproportionately, as we always have, to the world's welfare––in science, the arts, medicine, technology, athletics, media, et al. Still, the world's Jew haters and Israel loathers continue to marinate in their DNA hatred and envy of the Jews who, of course, they should be admiring and emulating. Stupid is forever!
WHO COULD IMAGINE?
It is inconceivable that in America, a country that welcomes the stranger, strives mightily for equality, and in which minorities have succeeded far beyond even their own expectations, that many of our leaders have been outright racists themselves, with a particularly irrational hatred toward Jews.
Going back to Franklin Delano Roosevelt, whose Jew hatred has been exhaustively documented by professor, columnist and author Rafael Medoff, among others; up to the Ayatollah-infatuated Jimmy Carter who had and continues to have a "special animus" toward Jews and Israel, according to rabbi and author Shmuley Boteach; and not to omit the seething Jew hatred of Barack Obama, as spelled out here and here and here and here, the list has no end.
But who could imagine that in the so-called evolved culture of 2022, that among the most maniacally anti-Semitic people in the world––and among the most powerful––are those in the Biden regime who currently occupy the White House?
Very unfortunately, many of them are apostate Jews…you know, the species that has replaced Judaism with their own fetishistic, cult-like religion of Social Justice––a cult that worships at the altar of political correctness, multiculturalism, moral relativism, and the convoluted and racist construct of intersectionality.
And all of them are Democrats, including a huge number of elected members of the U.S. Congress! We have all witnessed the ferocious Jew hatred and abhorrence of Israel vomited out on a regular basis by the growing number of racist Democrats in the U.S. Congress, aka "the Squad" of Alexandria Ocasio-Cortez (D-NY), Cori Bush (D-MO), Ayanna Pressley (D-MA), Rashida Tlaib (D-MI), Jamaal Bowman (NY), and Ilhan Omar (D-MN), et al––the list gets longer every day.
Read the rest at this link….lots of pictures to go with the narrative:
https://www.thepostemail.com/2022/06/10/hear-o-israel-how-do-i-hate-thee/
DAY 4 Continued:
STEWART RHODES WANTS TO TESTIFY LIVE AT THE JAN. 6 COMMITTEE OF LIES.
Oath Keepers founder Elmer Stewart Rhodes III is challenging the House Jan. 6 Select Committee to let him testify on a live broadcast so he can pit the truth as he sees it against the committee's "pack of lies."
"Public televised testimony, that's the only condition," Rhodes said.
"If I were given a chance to give an opening statement, I'm writing up what I would give them," Rhodes told The Epoch Times on July 10. "If they decline to accept my offer, I'm going to go ahead and publish my opening statement."
Rhodes said he does not expect the committee to accept his offer because his appearance would be a free-wheeling discussion, not a scripted presentation.
"They should jump at the opportunity, but they won't because they don't want that," he said. "What they want is what you've seen, which is just a scripted, controlled, pre-screened show trial. They're only going to put people in front of the public that they know are going to say what they want them to say."

"I want to push back," Rhodes said. "I want to cut back against this false narrative. They don't want the truth. That's why they won't let me just get up there, unscreened, uncoached, and just answer[ing] questions because they don't want the truth out.
The panel might hold a prime-time hearing on July 14. It plans to cover the issue of domestic extremism and the roles allegedly played by the Oath Keepers and the Proud Boys on Jan. 6, 2021. Rhodes said he would drop his Fifth Amendment right against self-incrimination and answer questions, but only if the hearing is on a live broadcast.
"So I'm going to do it now and waive my Fifth Amendment rights and do that in front of the public," Rhodes said in a call from the Alexandria City Detention Center in Virginia, where he is being held pending trial. He is charged with seditious conspiracy and conspiracy to obstruct an official proceeding, among other counts.
Rhodes was first charged in a superseding indictment on Jan. 12, more than a year after the unrest at the Capitol. He, six other Oath Keepers, and one associate were charged in a new superseding indictment (pdf) on June 22.
Prosecutors say the Oath Keepers conspired to "oppose the lawful transfer of presidential power by force" by "breaching and attempting to take control of the Capitol grounds and building" to prevent, hinder or delay certification of Electoral College votes by a joint session of Congress.
Oath Keepers and their attorneys say the seditious conspiracy charge was concocted out of whole cloth by misreading and twisting messenger chats, phone calls, and online meetings. They say the Oath Keepers were in Washington D.C. that day to provide security for conservative VIPs speakers at events supporting President Donald Trump.
Their transportation of weapons to nearby Virginia was part of the group's preparations for what they believed could be the situation where the president invoked the Insurrection Act due to an Antifa attack on the White House, Rhodes said. Rhodes said the committee has already shown deception when discussing the Oath Keepers. He pointed to a hearing when a still image of him was shown in a Washington, D.C., parking garage with former Proud Boys chairman Enrique Tarrio on Jan. 5, 2021. Had the committee shown the full video of the event, it would have been clear that the so-called meeting between the men was a mere handshake with no discussion, Rhodes said.
"They showed a still photo of me talking to Enrique Tarrio instead of the video, which has me walking up and saying hello and walking away because it wasn't my meeting; it was somebody else's meeting," Rhodes said.
The video shows that the contact between Tarrio and Rhodes lasted less than 30 seconds, although it has been described in prosecution documents as a 30-minute meeting.
Rhodes said Tarrio was in the garage to speak with Bianca Gracia of Latinos for Trump and attorney Kellye SoRelle. They wanted to ensure he had legal representation after his arrest for setting fire to a Black Lives Matter banner in Washington D.C. in December 2020.
Rhodes said he was part of SoRelle's three-man security detail. SoRelle, who also serves as general counsel for the Oath Keepers and Latinos for Trump, had received death threats, Rhodes said.
"It was their conversation, so I stepped down," Rhodes said. "I was there for security only for Kellye SoRelle."
Rhodes said part of his motivation to speak out publicly was the recent indictment of Michael Greene, a friend who ran security operations for the Oath Keepers in Washington, D.C., on Jan. 6. Greene, 39, of Indianapolis, was charged with conspiracy to obstruct an official proceeding and three other counts.
According to FBI summaries of those meetings, Greene's interviews with FBI agents in May 2021 contradict many of the accusations against the Oath Keepers.
Oath Keepers founder Elmer Stewart Rhodes III said the group was doing event and personal security on Jan. 6, 2021; not plotting to attack the Capitol as alleged by federal prosecutors.
"He is a totally innocent man who was operations lead that day; a friend of mine, straight up, excellent, awesome Army veteran and ex-cop," Rhodes said. "A totally innocent man. They're just persecuting him."
Greene had every right to be at the Capitol on Jan. 6 because the Oath Keepers were providing security for a "Stop the Steal" rally in Area 8 on the Capitol lawn and for a Latinos for Trump event two blocks away. Stop the Steal founder Ali Alexander had a permit for the Capitol rally and for the erection of a stage.
"He (Greene) was supposed to be on Capitol grounds. He's supposed to be right there in Area 8, which is on Capitol grounds," Rhodes said. "That's where he was supposed to be, to go and protect the venue that Ali Alexander had reserved there.
So he was supposed to be on Capitol grounds. And now they're indicting him for trespass. It's just ridiculous."
Event Security, Not Conspiracy
Rhodes said the Oath Keepers presence in Washington D.C. that day was no different than for what they had done for pro-Trump rallies in November and December 2020.
"Our guys dressed the same and did the same thing," he said. "The difference is that two of our team leaders decided to take their people inside the Capitol of their own volition. That's the only difference. Their behavior and ambition was the same, to protect people at events in Washington D.C., which they did."
Oath Keepers provided security in the VIP area at the Ellipse where Trump spoke on Jan. 6. They were then tasked with escorting Alexander and speakers, including Roger Stone, from the Ellipse to the Capitol for an event that was on the calendar well before the president's speech was booked, Rhodes said.
Two groups of Oath Keepers did enter the Capitol.
Prosecutors claim they were searching for House Speaker Nancy Pelosi. Rhodes said there was no plan for anyone to go into the Capitol. One of the groups intervened between an armed U.S. Capitol Police officer and an angry crowd, de-escalating the situation, he said.
Rhodes ridiculed the charge by prosecutors that the Oath Keepers used a military "stack formation" to ascend the east steps of the Capitol. Oath Keepers have been shown on video walking with hands on each other's shoulders in a line.
"That formation going up the steps is not a military formation. I was an infantry man, airborne infantry," Rhodes said. "That's not a military formation. That's a PSD (personal security detail) technique to get through a crowd."
The Oath Keepers have used the technique at other crowded venues to move their protectees through masses of people, he said, including an event in Atlanta in 2020.
"They use the loaded term of 'military stack.' No, it's a PSD detail. You don't go through a crowd like that if you're in the military."
Preparations Were for Antifa, Not to 'Attack the Capitol'
The Oath Keepers did have weapons and ammunition stockpiled in Virginia and had "Quick Reaction Forces" (QRF) on standby. Prosecutors claim the QRFs were to attack the Capitol. Rhodes said the Oath Keepers in the QRFs were available to extract other Oath Keepers or protectees from Washington if there was a large attack by Antifa.
The weapons were there only if Trump invoked the Insurrection Act and called up militias to defend the White House, Rhodes said. Antifa had made threats to assault the White House and eject Trump by force, he said.
"We're gonna have well-trained Oath Keeper combat vets with their weapons outside D.C. but ready in case the President invokes the Insurrection Act and calls us up as the militia, which completely lawful," Rhodes said.
Plea Deals and Coercion
The three Oath Keepers who took plea deals and are cooperating with prosecutors were coerced with threats of long prison sentences, he said.
A letter sent to defendants and their attorneys in May by prosecutors Kathryn Rakoczy and Justin Sher said that if Oath Keepers defendants are convicted at trial, they could face life in prison under sentencing guidelines related to terrorism.
A copy of the letter was obtained by The Epoch Times. The letter also set the deadline for accepting plea-agreement offers.
Noted defense attorney and Harvard law professor emeritus Alan Dershowitz said the attempt to link seditious conspiracy to sentencing guidelines for treason "is absurd."
Rhodes said in at least one of the three plea deals, the defendant had told family members he was terrified of the prospect of life in prison.
The seditious conspiracy charge includes a maximum prison sentence of 20 years.
"They scared the [expletive] out of these guys and coerced them into pleading for something they didn't do," Rhodes said. "There's no [expletive] conspiracy. Did he go into the Capitol? Yes, like a dumb ass, he went into the Capitol. But there was no conspiracy."
Rhodes said the Select Committee is making it nearly impossible for any of the Oath Keepers to get a fair trial. Recently U.S. District Judge Amit Mehta rejected a motion by Oath Keepers defendants to move their trials from D.C. to Virginia.
"The only way we can get any possibility of a fair trial in this country is if we are out of D.C.," Rhodes said. "I think it's a foregone conclusion.
"A D.C. jury is going to vote along political lines," he said. "We walk in there, we've got horns, demon tails, already, the 'evil Oath Keepers.' They've been conditioned over 13 years in the leftist media to hate us.
And these are all inside-the-beltway Democrats."
Overtly Anti-Racist
Rhodes said he would like to address what he called the defamatory smear of the Oath Keepers by Select Committee Chairman Rep. Bennie Thompson (D-Miss.), who called the group "white supremacists." Rhodes said that the Oath Keepers' rules ban any racial discrimination and that he does not tolerate such attitudes in the group.
On Jan. 6, 2021, the Oath Keepers vice president was a black police officer, he said.
Greene, the former police officer who ran Oath Keepers security in D.C. on Jan. 6, is also black.
"We're overtly anti-racist, and they have to know that. They've defamed us on purpose," Rhodes said. "So since that moment on, there has just been a relentless campaign of defamation, mischaracterization of Oath Keepers—even demonization."
Rhodes said that he believes the Select Committee's true goal is to see former President Trump indicted for Jan. 6. The committee and the
Department of Justice will work on that goal together, he said.
"They work hand in glove like two different fingers on the same iron fist," he said.
https://www.theepochtimes.com/exclusive-oath-keepers-founder-stewart-rhodes-wants-to-testify-live-challenge-j6-committees-pack-of-lies_4588493.html?utm_source=partner&utm_campaign=TheLibertyDaily
DAY 5.
Patience is the companion of wisdom. Augustine of Hippo
Foreword by Fred Brownbill. Todays story was published in June 2021 but is extremely relevant. Please take the time to read it and ensure you hit on the links enclosed in the post.

The Finders: CIA Ties to Child Sex Cult Obscured as Coverage Goes from Sensationalism to Silence
The Finders trail would ultimately lead to allegations of a cult involved in ritual abuse, an international child-trafficking ring, evidence of child abuse confirmed and later denied, and ties with the CIA, which was alleged to have interfered in the case.
by Elizabeth Vos
Mint Press News
WASHINGTON — In February 1987, an anonymous phone tip was called into the Tallahassee police department reporting that six children were dirty, hungry, and acting like animals in the custody of two well-dressed men in a Tallahassee, Florida park. That phone call would kick off the Finders scandal: a series of events and multiple investigations even more bizarre than the initial report.
The trail would ultimately lead to allegations of a cult involved in ritual abuse, an international child-trafficking ring, evidence of child abuse confirmed and later denied, and ties with the CIA, which was alleged to have interfered in the case. No one was ever prosecuted in the wake of the initial 1987 investigation or a 1993 inquiry into the allegations of CIA involvement: official denials were maintained, and authorities stated that no evidence of criminal activity was ever found. However, documents that have emerged over time beg significant questions as to the validity of the official narrative.
In contrast with other historical human trafficking rings covered in the independent press, including those I have previously discussed, the Finders scandal presents as something of a phantom. This is in consequence of the lack of adult victims who have come forward, an absence of hard evidence viewable to the public, and an absence of extensive trials or convictions. Further impeding the willingness of most journalists to cover such a story were claims of ritualistic abuse that were hyped by corporate media at the time of the incident, as well as allegations of a CIA-led coverup that were less widely recognized by the legacy press.
The story is further complicated by the fact that it takes place in three basic stages: the initial 1987 investigation spread across multiple states and law enforcement agencies; a subsequent 1993 inquiry into allegations of a CIA coverup and interference in the 1987 investigation; and the emergence of Customs Service documents detailing new aspects of initial searches of Finders properties which was followed by the publication of hundreds of documents from both investigations to the FBI vault in 2019.
By initially sensationalizing the issue via the framing of the Finders as a satanic cult, the media profited from immediate shock value while permitting this very sensationalism to become the premise for dismissing other aspects of the story and Finders ties to the CIA to remain unexplored.
The 1987 Investigation
On February 4, 1987, two men dressed in suits and ties in the company of six bug-bitten, dirty, hungry children were arrested in Tallahassee, Florida, on charges of child abuse after a concerned citizen called local police. Initially, Tallahassee police were concerned that the children might have been kidnapped and were being trafficked across state lines. The U.S. Customs Service, the Washington Metropolitan Police Department (MPD), and the FBI became involved in the attempt to identify the two men based on suspicions of interstate criminal activity including the possibility of child pornography.
The story exploded on a national scale after investigators linked the pair, identified as Douglas Ammerman and Michael Houlihan (also referred to as Michael Holwell), with a Washington D.C.-based group known as the Finders, which authorities publicly referred to as a "cult." Initially, Tallahassee police reported that at least two of the children showed signs of sexual abuse.
Houlihan and Ammerman first told police that they were transporting the children to a school for brilliant children in Mexico. However, this explanation as to the purpose of the children's trip would change significantly, with Finders members later stating that the group were on an adventure in Florida. The Finders group was found to have multiple properties in Washington, D.C. and a farm in rural Madison County, Virginia. It also became clear that the Finders were highly skilled with early computer technology, which would become a major aspect of the case as it unfolded.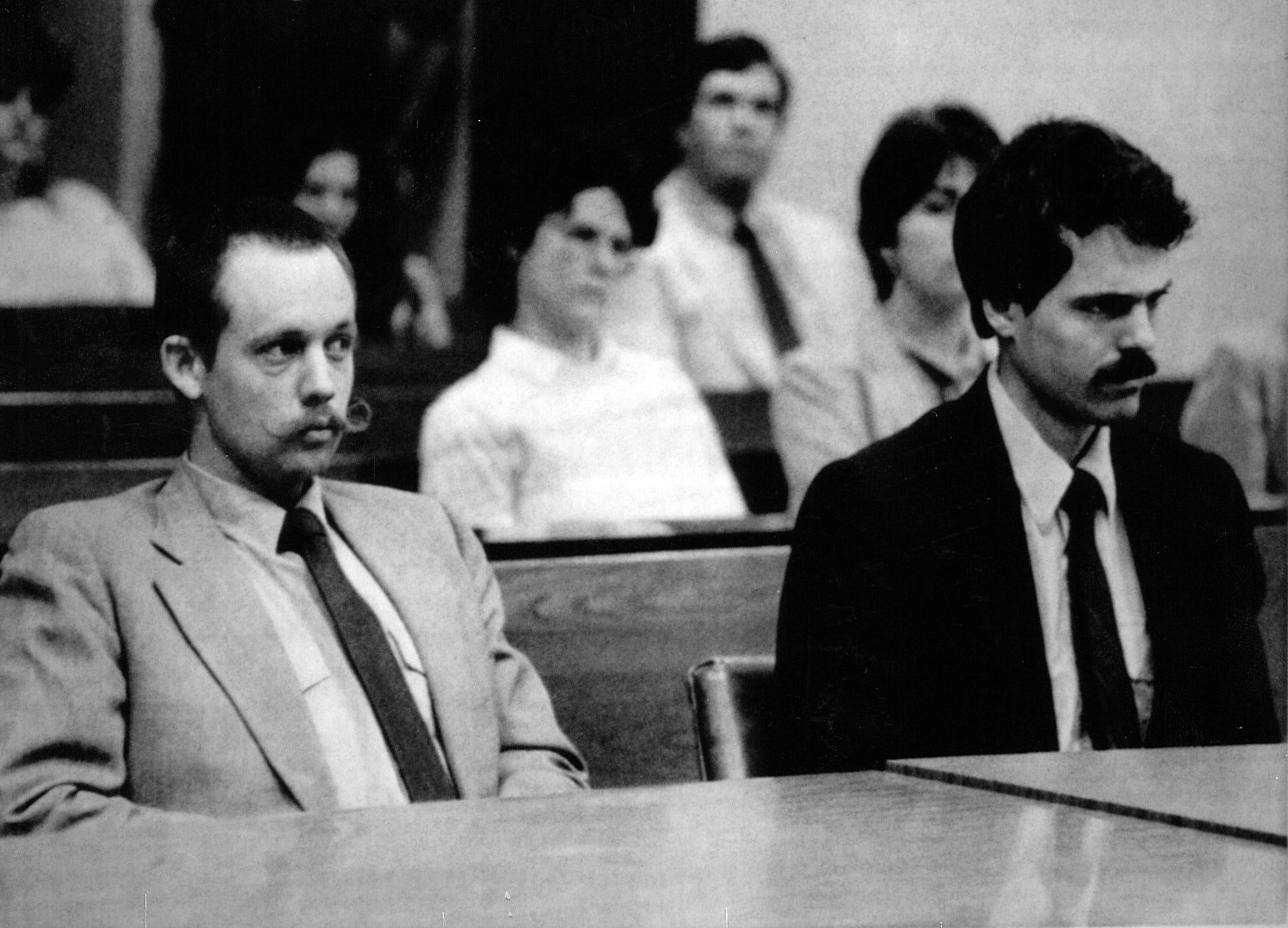 News reports across the country headlined allegations of ritual abuse for approximately six days after the initial arrests, before a tidal shift by both the media and authorities began on February 10. The New York Times reported on that day:
Local police officials announced here today that six children found last week in Florida had apparently not been kidnapped and that there was no evidence to show that the secretive group that has been raising them is a cult involved in child abuse. The statement from the Metropolitan Police Department conflicted with accounts from the police in Tallahassee, Fla., where the children were found, unwashed and hungry, last week. Officials there said this morning that at least two of the children had signs of sexual abuse.
As described by the Times and the Chicago Tribune, the children were placed in police protective custody after threats were received at the shelters where they had originally been housed. Eventually, the mothers of the children were reported to have been Finders members and the children were said to be transported by Houlihan and Ammerman with the full consent of their parents. Hence, suspicions of kidnapping and trafficking rapidly lost credibility, though issues of abuse remained. The original strong allegations of sexual abuse of at least two of the six children were eventually contradicted by Florida authorities.
In March 1987, Houlihan and Ammerman were released with charges dropped for lack of evidence, and all of the children were eventually returned to their mothers. The official and media consensus was that the entire issue was a miscommunication blown out of proportion, and that the Finders were simply a 1960's-esque "alternative lifestyle community" with unusual education methods.
The 1993 inquiry into an Intelligence Community coverup
U.S. Customs Special Agent Ramon J. Martinez claimed in a memorandum that during his participation in the searches of two of the Finder's properties in Washington he witnessed evidence of the Finders' intent to traffick children and other potentially criminal acts. Martinez wrote that he was unable to review the evidence collected at the locations after multiple attempts to do so, and that he was eventually told by a third party at the MPD precinct that the Finders group had come under the protection of the CIA, which had interfered with the investigation by deeming the issue an "internal matter," and had the case files labeled "Secret," with no further action to be taken or evidence available for review. Clearly, Martinez's account detailing what he witnessed presents a strong counter-narrative to the official story.
A man named Skip Clements allegedly communicated the U.S. Customs documents and other records to then-Florida Rep. Tom Lewis (R) and North Carolina Rep. Charlie Rose (D). Stemming in part from their protests, as well as the prospect of CBS's 48 Hours producing a segment on the Finders story (which never aired), the Department of Justice announced it would investigate allegations of CIA interference in the 1987 investigation in late 1993. The previously mentioned congressmen claimed publicly that the Finders may have benefited from protection of the U.S. government agencies, with U.S.News & World Report writing in December 1993, (as the DOJ investigation was getting underway), that Lewis had asked:
Could our own government have something to do with this Finders organization and [have] turned their backs on these children? That's what the evidence points to…. I can tell you that we've got a lot of people scrambling, and that wouldn't be happening if there was nothing here."
The DOJ's investigation resulted in a verdict of no evidence of CIA interference and no evidence of criminal activity on the part of the Finders, and it represented the official and legal end of the story.
The 2019 publication of FBI Vault documents
Eventually, Customs documents including Ramon Martinez's memo made their way onto the internet. The exact method by which this occurred remains murky, with the best copy of the documents being hosted by the website of now-deceased Ted Gunderson, who served as an FBI special agent in charge and head of the Los Angeles FBI.
I contacted Martinez in 2017 and confirmed that he authored the document and that it is genuine, but to date, he has otherwise refused to go on record to comment on the matter with me. Martinez has had limited communication with some other independent journalists, including Derrick Broze of the Conscious Resistance, who produced a documentary on the Finders case in 2019. I also described aspects of the Martinez memo and the Finders case as part of a report on alleged intelligence-tied child abuse scandals penned in August 2019 in the wake of Jeffrey Epstein's death and renewed public interest in the overall subject matter.
Just months after Epstein's death, in October 2019, the FBI began releasing hundreds of Finders investigation documents to their Vault. The publication sparked a storm of attention, but virtually no corporate press coverage aside from a piece by Vice, which framed any interest in the subject as a conspiracy theory.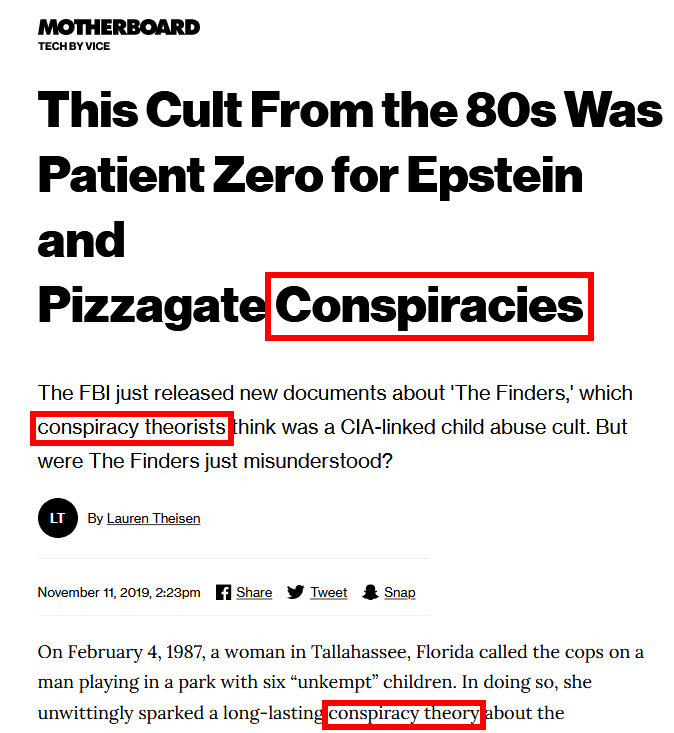 On their face, the contents of the FBI Vault documents appear to contradict the allegations made by former Special Agent Martinez: they include statements from multiple officers involved in the investigation from various agencies to the effect that they experienced no overt interference in their work from the CIA. Yet, when one looks closely, the documents also corroborate significant aspects of Martinez's allegations and substantiate questions regarding the Finders' links with intelligence.
There is the admission that Isabelle Pettie, the wife of Finders leader Marion Pettie, worked for the CIA during the Cold-War era (Pettie also admitted that his son worked for the CIA-linked, Iran Contra-era Air America), and that it was her visas to North Korea, North Vietnam, Russia and elsewhere that had been approved by the State Department. Key documents from the MPD investigation are labeled secret, just as Martinez had claimed, which is bizarre on its face if we are to believe that the Finders were simply an odd "alternative living" commune.
These and other corroborating details add credibility to Martinez's claims regarding having witnessed other documents that indicated international child trafficking, as well as his assertion that he was told that the case had been deemed a "CIA internal matter."
The FBI's Vault publication includes records from the preliminary Tallahassee police department investigation, the MPD investigation, heavily redacted records from the U.S. Customs Service, documents from the Washington Metro Field Office (WMFO) of the FBI, and other agencies, as well as the correspondence and documentation of the 1993 inquiry, mostly from the WMFO to FBI Headquarters. The documents are scattered throughout the three published sections in no coherent order, and are interspersed with news reports from the time ranging from the initial arrests and the child custody issue to the 1993 inquiry into CIA connections with and protection of the group.
Bizarrely, a map relating to the McMartin Preschool scandal is also included in the publication for no known reason, since at this time the cases are completely unrelated aside from both having contained allegations of satanic abuse. Regardless of the intent behind the document's inclusion, it serves to further associate the Finders with the so-called "moral panic" scandals of the era, which I would argue distracts from the issue of intelligence ties to the case.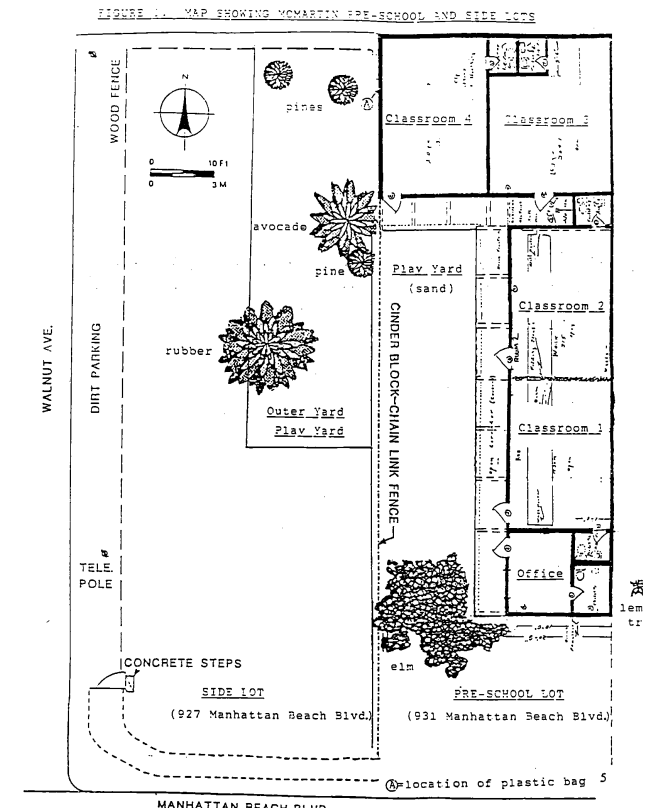 A fresh look
Before moving further into analysis of the available evidence, it's important to recognize a number of problems we face in understanding the information published in the FBI's Vault. First, a multitude of large, often critically placed redactions plague the documents, the most important of which are not labeled with privacy exemptions but are instead labeled "S," presumably meaning that the information is classified as secret.
Another problem involves the fact that information requested by some agencies — especially during the 1993 preliminary inquiry into a CIA coverup — was not provided to the relevant investigating agencies. Then there is the phenomenon of information disappearing outright, including vanishing evidence and instances of records never having been kept, resulting in conflicting accounts of the existence of critical pieces of evidence.
This series will challenge both the sensationalism and the silence of establishment media surrounding the Finders narrative by examining the allegations made by the U.S. Customs documents in view of the FBI's more recent Vault publications, which shed fresh light on the connections between the Finders and the U.S. intelligence apparatus.
Elizabeth Vos is an independent journalist and MintPress News Contributor. Her work has appeared in many media outlets including Consortium News, where she co-hosts the CNLive! webcast.
Read the full article at Mint Press News.
DAY 5 Continued…….. I had to share this great and well written article with you all. Read it and you will fully understand that the short and therefore long term goal of the New Socialist Democrat Party is to do away with personally owned cars. Enjoy!! (Not)
The End of Private Car Ownership
You will drive nothing and you will be happy!!
The term "pedestrian" has a derogatory meaning because peasants walked while nobles were "equestrians" and rode horses. The industrial revolution eliminated this class difference, as it did so many others, by making car ownership available to the masses until eventually Herbert Hoover was able to boast that "Republican prosperity has reduced and increased earning capacity" to "put the proverbial 'chicken in every pot' and a car in every backyard to boot."
Democrats have spent two generations trying to get those cars out of every backyard.
Biden is trying to bring back Obama's mileage standards that were estimated to raise car prices by 20%.The goal is to "nudge 40% of U.S. drivers into electric vehicles by decade's end."
Will 40% of Americans be able to afford electric cars that cost an average of $54,000 by 2030?
Not likely. Nor are they meant to. Biden's radical 'green' government, which includes Tracy Stone-Manning, the former spokeswoman for an ecoterrorist group as the head of the Bureau of Land Management, isn't looking to nudge drivers into another type of cars, but out of cars.
Gas prices are a way to price Americans out of car ownership under the guise of pushing EVs.
Biden's Energy Secretary Jennifer Granholm responded to American concerns about high gas prices by urging them to buy electric cars. Granholm, who had promoted a green energy tycoon who spent years in prison for fraud, who had served on the board of directors of an electric battery company, and made millions divesting stock in an electric vehicle manufacturer, is a fan.
"Most electric vehicles are now cheaper to own than gas-powered cars from the day you drive them off the lot," Granholm tweeted.
That isn't actually true, but actual cars have become more expensive to own, largely because of efforts by the Biden administration, and by various states, including California. That hasn't however made electric cars any more affordable for ordinary Americans.
The average price of an electric car shot up to $54,000 in May. Car prices in general have risen in the Biden economy, but electric cars are naturally expensive. The raw material costs for an average electric car are up to over $8,000. That's compared to $3,600 for an actual car.
When your raw material costs are that high, electric cars will be inherently unaffordable.
The Obama administration pumped billions in taxpayer money into battery and electric car manufacturing, the majority of which failed, on the theory that enough government subsidies would lower battery costs. Not only was much of that money lost, but currently electric battery costs hover around the $160 kilowatt-hour mark. Green boosters cheer that's far down from over $1,000 per kWh a decade ago, but that still adds up to the reality that an electric car capable of traveling for even short distances needs a battery that alone costs thousands.
The Nissan Leaf, which approaches $30,000 once the reality of MSRP in the current sales market is taken into account, is one of the cheapest electric cars around, and has a range of only 149 miles. Replacing its battery can set back car owners $6,500 to $7,500. And that's even when you can manage to find one or someone willing to replace it. In less than 3 years, Leafs lose 20 miles of range. By the fifth year, they have lost 30 miles. And it's all downhill from there.
The Nissan Leaf was initially a hit, but car manufacturers quickly realized that anyone willing to overpay that much for substandard performance had money to burn. The electric car market is now thoroughly dominated by luxury vehicles subsidized by taxpayers. And the Leaf went from 90% market share to less than 10%. The EV market is now a taxpayer-funded status symbol.
The dirty truth about the "clean" car market is that it consists of traditional car companies and Tesla frantically trying to unload a limited share of luxury electric cars on wealthy customers to cash in on the emissions credits mandated by states like California. Tesla makes more money reselling these regulatory credits to actual car companies than it does selling cars. Taxpayers and working class car-owners pick up the bill for the entire luxury electric vehicle market.
A market that they are shut out from by design.
The "green" vision is not a world in which everyone has their own electric car. It's one of collective transport, of buses, light rail, and car-pooling through shared rides and roving self-driving cars. The only vehicle the average consumer is supposed to own is a bicycle.
While the Biden administration is still pretending that it's out to "encourage" electric car ownership by making actual cars too expensive for much of the country to afford, others are saying the quiet part out loud.
"Car-lovers will doubtless mourn the passing of machines that, in the 20th century, became icons of personal freedom. But this freedom is illusory," an Economist article predicted.
"There will be fewer cars on the road—perhaps just 30% of the cars we have today," the head of Google's self-driving car project predicted.
"The days of the single occupancy car are numbered," Brook Porter at G2 Venture Partners, a green energy investment firm, thundered in an article titled, The End of Cars in Cities.
Dan Ammann, the former president of GM, claimed that "the human-driven, gasoline-powered, single-passenger car" is the "fundamental problem" in a post titled, "We Need to Move Beyond the Car". He has since gone to work for Exxon-Mobil.
Predictions are cheap, but car bans are expensive and all too real. The European Union voted to back a ban on the sale of non-electric cars by 2035. California is also pushing for a similar 2035 ban on the sale of new actual cars in the state. Officials noted that the ban would push more than half of mechanics out of work and leave much of the state unable to afford cars.
Canada has its own 2035 car ban. Last year, Governor Newsom and Governor Cuomo, along with 10 other governors, urged Biden to impose a 2035 car ban on all Americans.
Electric cars aren't actually "cleaner". The mining processes that produce "green" technologies are as dirty, if not dirtier, and trade dependence on oil for dependence on rare earth metals, and dependence on the Middle East for dependence on Communist China. The one thing that they decisively accomplish is to make it impossible for ordinary Americans to own cars.
And that is what environmentalists really want. But not just them.
The vision of a nation in which private car ownership is a luxury good, in which cars have been priced out of the reach of most people through environmental measures that concentrated on gas-powered vehicles, and then added more taxes and fines for the waste" and "inefficiency" of an individual owning a vehicle is not very far away.
The technocratic sales pitch is that ride-sharing and self-driving cars will make car ownership unnecessary. Why own a big clunky machine when you can own nothing and be happy?
The reality is that car ownership offers mobility and independence. That is exactly what the leftist radicals making social policy want to eliminate. Gas prices are not Putin's price hike, they're the green dream. And that dream isn't to put you in a Nissan Leaf. It's the Pol Pot dream of dismantling civilization and rolling back the industrial revolution.
Once the dark age norms of their dark enlightenment are restored, peasants will go back to being pedestrians and only the progressive philosopher kings will ride.
AUTHOR
Daniel Greenfield, a Shillman Journalism Fellow at the Freedom Center, is an investigative journalist and writer focusing on the radical Left and Islamic terrorism.
RELATED ARTICLES:
FABRICATING REALITY: Climate Change, Atmospheric Transgenderism and Mental Masturbation
Studies Show The Electric Vehicles Democrats Insist You Buy Are Worse For The Environment And Lower Quality
FACT: All Electric Vehicles (EVs) Are Powered by Coal, Uranium, Natural Gas or Diesel-Powered Energy
EDITORS NOTE: This Jihad Watch column is republished with permission. ©All rights reserved.
DAY 5 Continues…….. FREE AMERICA? WERE WE EVER A FREE NATION. READ ON……
Today's encore selection — from The Great Influenza by John M. Barry. Once President Woodrow Wilson decided that America should enter World War I, he did so with fire and fury, brushing aside individual liberties and crystalizing Americans around the single focal point of war:
"His fire informed virtually everything that happened in the country, including fashion: to save cloth, a war material — everything was a war material — designers narrowed lapels and eliminated or shrank pockets. And his fury particularly informed every act of the United States government. During the Civil War, Lincoln had suspended the writ of habeas corpus, imprisoning hundreds of people. But those imprisoned presented a real threat of armed rebellion. He left unchecked extraordinarily harsh criticism. Wilson believed he had not gone far enough and told his cousin, 'Thank God for Abraham Lincoln. I won't make the mistakes that he made.'
"The government compelled conformity, controlled speech in ways, frightening ways, not known in America before or since. Soon after the declaration of war, Wilson pushed the Espionage Act through a cooperative Congress, which balked only at legalizing outright press censorship — despite Wilson's calling it 'an imperative necessity.' The bill gave Postmaster General Albert Sidney Burleson the right to refuse to deliver any periodical he deemed unpatriotic or critical of the administration. And, before television and radio, most of the political discourse in the country went through the mails. A southerner, a narrow man and a hater, nominally a populist but closer to the Pitchfork Ben Tillman wing of the party than to that of William Jennings Bryan, Burleson soon had the post office stop delivery of virtually all publications and any foreign-language publication that hinted at Iess-than-enthusiastic support of the war.
"Attorney General Thomas Gregory called for still more power. Gregory was a progressive largely responsible for Wilson's nominating Louis Brandeis to the Supreme Court, a liberal and the court's first Jew. Now, observing that America was 'a country governed by public opinion,' Gregory intended to help Wilson rule opinion and, through opinion, the country. He demanded that the Librarian of Congress report the names of those who had asked for certain books and also explained that the government needed to monitor 'the individual casual or impulsive disloyal utterances.' To do the latter, Gregory pushed for a law broad enough to punish statements made 'from good motives or … [if] traitorous motives weren't provable.' The administration got such a law.
"In 1798, Federalist President John Adams and his party, under pressure of undeclared war with France, passed the Sedition Act, which made it unlawful to 'print, utter, or publish … any false, scandalous, or malicious writing' against the government. But that law inflamed controversy, contributed to Adams's reelection defeat, and led to the only impeachment of a Supreme Court justice in history, when Samuel Chase both helped get grand jury indictments of critics and then sentenced these same critics to maximum terms.
"Wilson's administration went further, yet engendered little opposition. The new Sedition Act made it punishable by twenty years in jail to 'utter, print, write or publish any disloyal, profane, scurrilous, or abusive language about the government of the United States.' One could go to jail for cursing the government, or criticizing it, even if what one said was true. Oliver Wendell Holmes wrote the Supreme Court opinion that found the act constitutional — after the war ended, upholding lengthy prison terms for the defendants — arguing that the First Amendment did not protect speech if 'the words used … create a clear and present danger.'
"To enforce that law, the head of what became the Federal Bureau of Investigation agreed to make a volunteer group called the American Protective League an adjunct to the Justice Department, and authorized them to carry badges identifying them as 'Secret Service.' Within a few months the APL would have ninety thousand members. Within a year, two hundred thousand APL members were operating in a thousand communities. In Chicago a 'flying squad' of league members and police trailed, harassed, and beat members of the International Workers of the World. In Arizona, league members and vigilantes locked twelve hundred IWW members and their 'collaborators' into boxcars and left them on a siding in the desert across the state line in New Mexico. In Rockford, Illinois, the army asked the league for help in gaining confessions from twenty-one black soldiers accused of assaulting white women. Throughout the country, the league's American Vigilance Patrol targeted 'seditious street oratory' sometimes calling upon the police to arrest speakers for disorderly conduct, sometimes acting more … directly. And everywhere the league spied: on neighbors, investigated 'slackers' and 'food hoarders,' demanded to know why people didn't buy — or didn't buy more — Liberty Bonds.
"States outlawed the teaching of German, while an Iowa politician warned that 'ninety percent of all the men and women who teach the German language are traitors.' Conversations in German on the street or over the telephone became suspicious. Sauerkraut was renamed 'Liberty cabbage.' The Cleveland Plain Dealer stated, 'What the nation demands is that treason, whether thinly veiled or quite unmasked, be stamped out.' Every day the Providence Journal carried a banner warning, 'Every German or Austrian in the United States unless known by years of association should be treated as a spy.' The Illinois Bar Association declared that lawyers who defended draft resisters were 'unpatriotic' and 'unprofessional.' Columbia University president Nicholas Murray Butler, a national leader of the Republican Party, fired faculty critical of the government and observed, 'What had been tolerable became intolerable now. What had been wrongheadedness was now sedition. What had been folly was now treason.'
"Thousands of government posters and advertisements urged people to report to the Justice Department anyone 'who spreads pessimistic stories, divulges — or seeks — confidential military information, cries for peace, or belittles our effort to win the war.' Wilson himself began speaking of the 'sinister intrigue' in America carried on 'high and low' by 'agents and dupes.'
"Even Wilson's enemies, even the supposedly internationalist Communists, distrusted foreigners. Two Communist parties initially emerged in the United States, one with a membership of native-born Americans, one 90 percent immigrants.
"Judge Learned Hand, one of Simon Flexner's closest friends, later observed, 'That community is already in the process of dissolution where each man begins to eye his neighbor as a possible enemy, where nonconformity with the accepted creed, political as well as religious, becomes a mark of disaffection; where denunciation, without specification or backing, takes the place of evidence; where orthodoxy chokes freedom of dissent.' But American society hardly seemed to be dissolving. In fact it was crystallizing around a single focal point; it was more intent upon a goal than it had ever been, or might possibly ever be again."author: John M. Barry title:The Great Influenzapublisher: Penguin Group date: Copyright John M. Barry, 2004, 2005 page(s): 123-125
DAY 6:-
Evidence of the lie that is supposedly Global Warming gets scientist banned from LinkedIn. He even used the government figures!!!! Read on!
Big Tech's crackdown on sceptical climate science continues with the recent news that Gregory Wrightstone, a geologist and the Executive Director of the CO2 Coalition, has been permanently excluded from LinkedIn, a social media platform owned by Microsoft. Wrightstone has had problems with the LinkedIn censors for some time, but he noted that his final demise occurred when he posted two charts used by the IPCC. The charts show the level of carbon dioxide in the atmosphere according to the paleoclimatic record. The data come from the U.S. National Oceanic and Atmospheric Administration (NOAA) and are widely considered the best available science.
Of course the graphs above need careful handling in the politicised world of 'settled' climate science. They show that current amounts of CO2 in the atmosphere are at their lowest levels in Earth's history. The level has been falling steadily for over 140 million years. And of course they fail to show a link with temperature, which has risen and fallen throughout the period without any obvious connection. Alternative explanations, some more plausible than others, suggest different forms of plants and life evolved to cope with higher CO2levels, the sun was cooler in the past, and recent increases in the gas are unprecedented.
Commenting on his ban, Wrightstone noted that he was quickly growing a large following by showcasing the many benefits for ecosystems and humanity of modest warming and increasing CO2 levels. "I was opening eyes," he continued, and "for that reason I needed to be silenced".
Noting the ban, the Climate Realism newsletter reported that LinkedIn's reason for it was that Wrightstone's information was "false and misleading" and that "this type of content is not allowed". This led Climate Realism to comment:
So, it appears that a dataset used and approved by world governments in the discussion of climate change is off-limits if a researcher uses it to undermine the notion carbon dioxide emissions are historically high and climate change may not be catastrophic. Historical records of CO2 in the atmosphere are important in the climate change debate as they refute any claim that current CO2concentrations are 'unprecedented' and are therefore demonstrably dangerous to life on Earth. This truth is evidently the 'type of content' that is 'not allowed' by the non-scientist account reviewers at social media sites like LinkedIn and Facebook. It is the reviewers, not Wrightstone, who are rejecting the science.
The U.S.-based CO2 Coalition is an educational foundation that seeks to inform the public about the important contribution made by CO2 to human lives and the economy. It seeks to engage in an "informed and dispassionate discussion of climate change", and "strengthen the understanding of the role of science and the scientific process". It is chaired by the distinguished atmospheric scientist Emeritus Professor William Happer of Princeton. Professor Happer, whose recent trenchant comments on modern climate science we recently reported, is unwavering in his commitment to the scientific process. "Scientific evidence must be reliable, tested and validated – or not be used," he notes. He draws attention to the views of Professor Richard Feynman, a Nobel Laureate in Physics, who said: "If you're doing an experiment, you should report everything that you think might make it invalid – not only what you think is right about it."
Big Tech censors do not seem to be big fans of the Happer/Feynman method. Earlier this year, Google AdSense demonetised the web page of Dr. Roy Spencer that displayed a monthly collation of satellite temperature data. This was on the grounds of publishing "unreliable and harmful claims". These data have been collected for over 40 years from NASA satellites and are considered a highly reliable guide to global temperatures. Alas, it shows that global warming started to run out of steam over 20 years ago, and the latest pause in temperature is now approaching eight years. Such heresy is not to be found in the more politically correct global surface datasets, where heat 'records' abound with the help of frequently adjusted figures.
Meanwhile over on Twitter, advertisements that "contradict the scientific consensus" were recently banned. Twitter said that such ads were now prohibited in line with its "inappropriate content policy". Barak Obama called the ban a "good example of progress", and warned that "companies need to be more careful about the content they promote, especially in ads". Twitter global sustainability manager Casey Junod said the former American President's comments were a "proud moment for Twitter".
And so pure science and free speech falteringly progress – making the occasional advance, but suffering massive hits along the way.
Chris Morrison is the Daily Sceptic's Environment Editor.
https://dailysceptic.org/2022/07/13/linkedin-bans-geologist-for-posting-the-u-s-governments-own-co2-graphs-saying-they-are-false-and-not-allowed/
DAY 7:-
My take on the so called green agenda!!
WHEN IS GREEN NOT SO GREEN? WHEN DEMONRATS SAY IT IS!!
Green energy really has not been thought through. The extreme leftist democrats and so called global politicians have bought into a huge lie. However, they have a MSM in their back pockets which will always help hide the inconvenient truth about their green agenda.
What do I mean? Let's look at solar panels for instance. Great idea right? Especially if you live in a sunny part of the world. States and governments give you massive incentives to have these mostly Chinese made panels stuck on your roofs or in fields etc. Don't worry about being in a tornado area where these panels can help your roof come off in a storm!
Remember back in the 70's the world was scared about the proliferation of nuclear power plants? ( safest and cleanest power yet by the way ). " What will we do with the nuclear waste?" It will destroy the globe.
Well, solar panels are another new nuclear waste! Yep! Turns out their life expectancy is not that long and when they need replacement they, the old panels, are becoming an environmental hazard! Oh oh!
It appears solar panels contain "components that contain toxic heavy metals such as selenium and cadmium which will contaminate groundwater." Oh oh!! This is another example of how these so called green policies can and often do have unintended consequences!
Now, both regulators and panel manufacturers are realizing that they don't have the capacity to handle what comes next. Whoops!! Today over 140,000 panels a day are being added to rooftops nation wide and the industry expects demand to quadruple by 2030!
Recycling solar panels isn't a simple process. Highly specialized equipment and workers are needed to separate the aluminum frame and junction box from the panel without shattering it into glass shards. Specialized furnaces are used to heat panels to recover silicon. In most states, panels are classified as hazardous materials, which require expensive restrictions on packaging, transport and storage. A lack of consumer awareness about the toxicity of materials in the panels and how to dispose of them is part of the problem. (The above from a report by The Times' Rachel Kisela.)
Next let's look at lithium, the material for batteries in all those electric cars that the Biden administration wants us to drive to save the world from the stupid lies of global warming.
Hit this link for a story on the damage being done to the earth by our constant and increasing demand for these horrible cars.
https://usa.streetsblog.org/2021/02/09/lithium-mining-and-the-hidden-environmental-costs-of-evs/
Seriously. Read the whole article linked above to really understand how "Un-green" these batteries are. The harm they will cause to this planet plus becoming another nightmare to recycle.
All that's supposedly green is not!! Check out these shots of lithium mines. The third is in China.
As usual here are some great links to contributors and friends of mine to this site. Please take the time to hit each one and read them.
Watch Eagle Headline News – 7:30am ET Weekdays
– The 6 Top Stories in One Minute
https://drrichswier.com/2022/07/06/red-flag-laws-failed-miserably-in-the-case-of-j4th-mass-murderer-robert-bobby-crimo-iii/